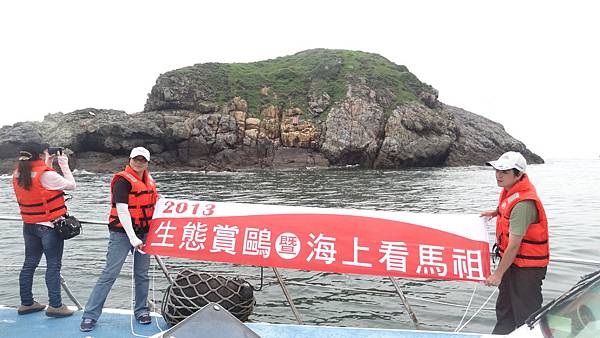 Matsu Tern-Watching Tour will be held at every Monday, Wednesday, and Friday morning from July 1st to August 30th, 2013. However, for safety purpose, the tour might be cancel depend on the weather condition. During the 2-hours cruising time, tourists will enjoy the close-up views of different flying terns and the spectacular ocean view along the islands.
Matsu Islands Bird Sanctuary was established in 2000 with eight species of crested terns protected by regulations. Among the eight species, the endangered Chinese crested tern was once thought to become extinct but recently found in Matsu. By participating in this tour, visitors will not only get a close view of these beautiful terns, but also enjoy the view of the eastern Fujian style architecture of Qinbi village.
For those who are interesting in this tour are recommended to purchase ticket at Fuao Harbor Visitor Service Center before 9 o'clock due to the limited number of seats. Ticket price for the trip is 250 NTD (insurance included) and no credit card is accepted. For further tour and ticket information, please contact Longfu Travel Agent at (0836)55661 or via e-mail longfu55661@hotmail.com.
Activity Information:
Duration:
Every Monday, Wednesday, and Friday from July 1st to August 30th, 2013.
Ticket price:
250NTD (Insurance included)
Venue and schedule:
Meet at FuaoHarbor service counter (Nangan township) at 09:00. Boat departures at 09:30 and returns at 11:30.
Boat Route:
Fuao Harbor à Tiejian à KaoDan à Chungshand à Dachou à Qinbi à Beigan then return to FuaoHarbor
Seats available:
45 people per boat (seats are limited)
Host:
Matsu National Scenic Area Administration, Tourism Bureau, MOTC
Activity contractor:
Lognfu travel agent (TEL:0836-55661)
Ticket information:
Longfu travel agent (Tel:0836-55661,Fax:0836-55662)
Matsu Bamin travel agent (Tel:0836-23933,Fax:0836-26010)
Matsu Baba travel agent (Tel:0836-22417,Fax:0836-22631)